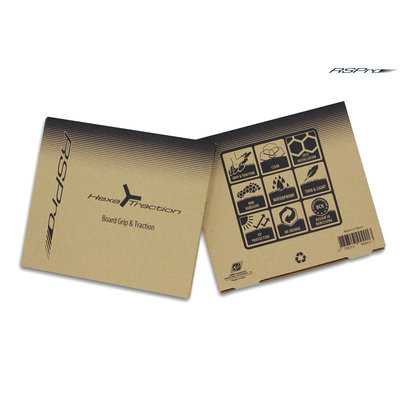 DECLUTTER YOUR SURFING LIFE
The real HexaTraction™️. Often imitated, never duplicated.
Temperature independentgrip and traction alternative to wax and pads.
Light, thin, and doesn't absorb water.
No melting, no hassle, no residues, no contamination.
Super-easy to installmodular configuration.
Clear, translucent, so it doesn't cover your board graphics.
Works everywhere: epoxy, polyester and soft boards.
UV protection and waterproofingfor your board deck.
Automotive, RSPro® quality. 
Non-Aggressiveto your skin.
Design&manufacturing in Barcelona.
SPECIFICATIONS:
1 Standard kit (box) is composed by 18 full hexagons and 4 half hexagons of 16cm (6.3") and a HexaTraction star shaped installation template.
Standard kit net weight: 115 grams / 4 ounces. 
Surf shortboard: 1 standard kit (box) would be enough. Check the image with layout examples
River, wake and kite surfing boards: 1 R-W-K kit (box) would be enough.  
Fun boards and Long boards: 2 standard kits (boxes) recommended. 3 for longer than 8' boards. Check the image with layout examples
SUP nose: 1 standard kit (box) would be enough. Check the image with layout examples
SUP full deck: 2-3 standard kits (boxes) recommended. Check the image with layout examples
0
sterren op basis van
0
beoordelingen